A new tool from Appfigures has been launched, offering analysis of apps by geography and category across various stores, including Amazon's alternative store. Remarkably, it is free to use. It provides insights into app rankings, downloads, profits, and ASO keywords, though historical data is reserved for the paid version. Let's compare new tool with App Magic who has proven himself before
Recently, a new tool from my favorite and revered company Appfugures was released. This tool in particular helps us analyze the position of applications by geo and category, with a breakdown by store (including the "alternative" store from Amazon.) The important thing about this service is that it is actually free.
Let's understand its functionality and compare it with its competitor App Magic, which I regularly use for my work. But for the comparison to be fair, we will use only free features.

(In the example we see a comparison in the display by Business category for the U.S. between the 2 tools, there are small differences, mainly everyone is interested in the paid section here the differences are insignificant. )

Let's start with Appfugures.
What it can do:
Analyze by store.
Analyze by GEO (by country)
Analyze by category
We see 3 columns: Free, Paid Only, and Grossing.
By clicking on the app icon:
Number of downloads and profit for the month, but with the caveat that it goes for all countries, that is cumulative.
The number of downloads and profit is visible for the last month, although as noted in the header of the list of applications we see the output with an update for the last hour.
A handy tool for ASO specialists: the top keyword list is a quick look at the competitor and the main keywords he is promoting on.
App ranking
In which countries is it available and in which languages, for which devices. This tool is sent modestly to the bottom of the popup window and I would personally make it more visible.
Dynamics of positions and other historical data can be seen in the paid version. That is not very convenient.
Now let's analyze the free functionality of App Magic
The main difference - there is a search, for example, you can quickly find out if there is an application with a certain name in the app stores (I use it all the time) Also there is a search by publishers.
Analyze by GEO ( by country )
Analyze by group ( Tier-1 etc. )
Analyze by category + analyze by tags which is more convenient, for example, for "scanners" you will get a list by a certain geo of all scanners in the top.
The list is divided into 3 groups as in AppFigures, but with the difference that there is no separate list of purely paid applications, but there is a separate list of top featuring applications, which is interesting and makes it clear what the store promotes and why.
In addition, you can filter the output for a day, week, month, and year (but the numbers will be visible only for a month, although the lists themselves can change).
There is also a Top Trending list with a breakdown by stores and you can see new applications that show active growth over the last 3 months, although personally, I'm not quite clear how it works and how reliable it is.
If we click on the icon in the list we will see a pop-up window with a lot of information, breakdown by GEO on downloads and profit as a percentage, but remember that this is for all app stores and all devices – quite informative.
In the pop-up window you can see the same thing as the other service:
Ratings, release date, what languages the app came out in, updates, screenshots, description, etc) So far it's organized more conveniently.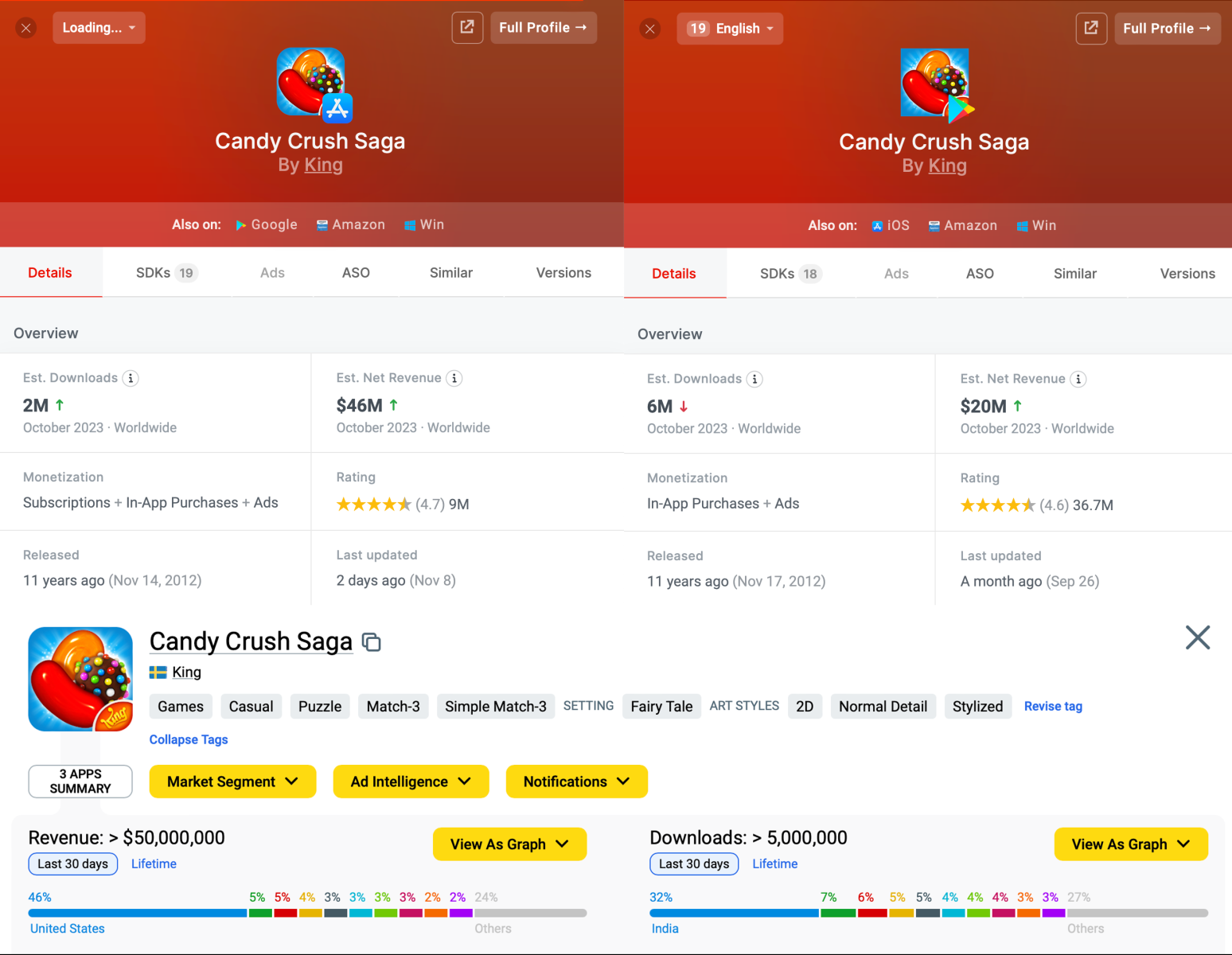 (In the picture above we can see how the tool interprets the installations and profits of the Appsfigures tool at the top and App Magic at the bottom, you can see that for AF the figures seem a bit higher, considering that AM shows data for 2 stores in the free version.)
Conclusions: For quick analysis of the market is still more convenient in my opinion App Magic, this service was created for this purpose, especially in the paid version you can see the advertising campaigns of competitors, soft lunch, ficherings and the most successful growing applications already broken down by GEO. Plus a quick and easy search, which helps me to understand at launch if there are no competitors with a similar name. On the other hand, Appfigures gives us a quick glance, profit and downloads estimation with store-by-store breakdowns, which is convenient and what is not in free AppMagic, even if it is global (all geos). And also there are top key queries for a particular app, which AM also does not have.